About This Station
The station is powered by a Davis 6153 Vantage Vue Pro2 weather station. The data is collected every 5 seconds and the site is updated every 10 minutes. This site and its data is collected using Cumulus Software Software. The station is comprised of an anemometer, a rain gauge and a thermo-hydro sensor with an aspirated fan situated in optimal positions for highest accuracy possible.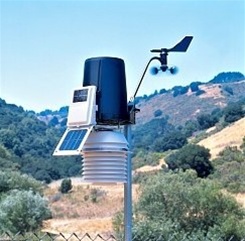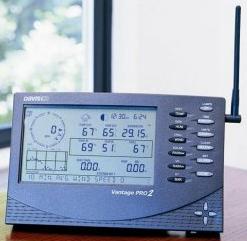 About West Bend
We are located in the Western part of West Bend, Wisconsin, a city with about 31,600 (2018 estimate) residents. West Bend is located about 30 miles NorthWest of Milwaukee, WI.
West Bend History
Before the arrival of European settlers in southeastern Wisconsin, the Potawatomi and Menominee Indians inhabited the land now occupied by the city of West Bend.
In 1845, the Wisconsin Territorial Legislature authorized the building of a road to connect Fond du Lac and Milwaukee. Byron Kilbourn, one of the highway commissioners, and Jasper Vliet, a surveyor, were put in charge of determining the route the road would take and of identifying a good halfway point for travelers. The path they chose is now U.S. Route 45 and the rest stop is present-day West Bend.
Because many people used the resting place, it evolved into a popular area. The Milwaukee River running through the town eventually played a major role in the city's history. It was because of the western bend in the river that West Bend got its name. The river also produced enough energy to power saw mills and gristmills. Early buildings included Holy Angels Catholic Church, built in 1852 at the corner of Hickory and 7th. In 1866 this building was converted into a school, and a new church was built at Elm and 7th under the direction of Reverend Johann Baptist Reindl (1827–1891); the building is now Trinity Lutheran Church.[8] The railroad arrived in 1873, bringing with it more settlers and industrialization. At this time, West Bend saw a growth spurt, and in 1885 the city officially became an incorporated Wisconsin community.
The Village of Barton
In 1845 early settler Barton Salisbury, while on a surveying trip up the Milwaukee River, found a rapids that he believed would be a good source of power for a sawmill. He built a log hut on the west side of the river and the village of Barton was born. On November 1, 1961, the city of West Bend annexed the Village of Barton.

(The above history curtesy of Wikipedia.
The Ridge Run Weather Station Location
The Ridge Run Weather Station is located on South University Drive next the the Ridge Run Park (300 S University Drive), thus the name of this weather station.

Glacier activity is evident at this park with its steep ridges and valleys. Anglers, birdwatchers and nature enthusiasts will enjoy showy seasonal displays. Shelters, picnic area, hiking trails, fishing, play fields, play equipment, sand volleyball, horseshoes, ice skating, lighted sledding hill, x-country ski trail, & heated restrooms while x-country skiing available.
Ice Age Trail, West Bend Segment – Washington County

Located along the western edge of the city, the nearly 6-mile segment is unexpectedly rugged and forested, and provides quite a workout for those looking to get active this winter.

There are numerous hills and valleys as it traverses through Glacial Blue Hills Recreation Area and Ridge Run Park. These parks have distinct characteristics that highlight landforms created by glaciers.

As the trail winds through the parks, one section merges with technical singletrack mountain biking routes and another follows the shore of Wells Lake, where ice skating is common in the winter.
About This Website
This site is a template design by CarterLake.org with PHP conversion by Saratoga-Weather.org.
Special thanks go to Kevin Reed at TNET Weather for his work on the original Carterlake templates, and his design for the common website PHP management.
Special thanks to Mike Challis of Long Beach WA for his wind-rose generator, Theme Switcher and CSS styling help with these templates.
Special thanks go to Ken True of Saratoga-Weather.org for the AJAX conditions display, dashboard and integration of the TNET Weather common PHP site design for this site.
Template is originally based on Designs by Haran.
This template is XHTML 1.0 compliant. Validate the XHTML and CSS of this page.


Hosted By Lizard Hill

Website Owned and Maintained by:
Tom Wills
Certified Skywarn Trained Observer